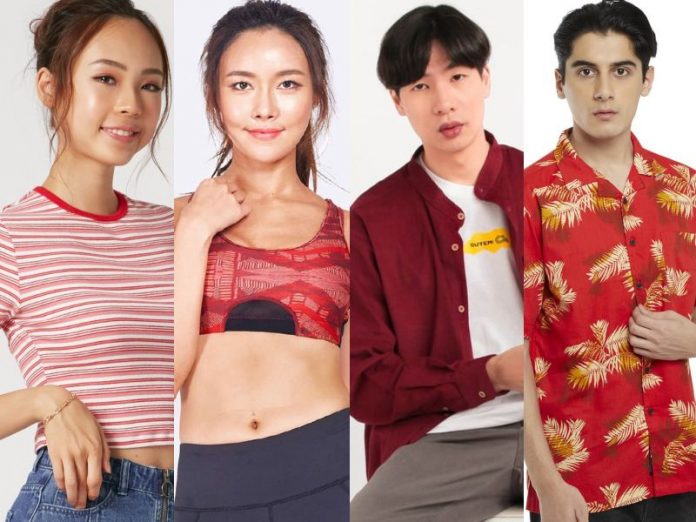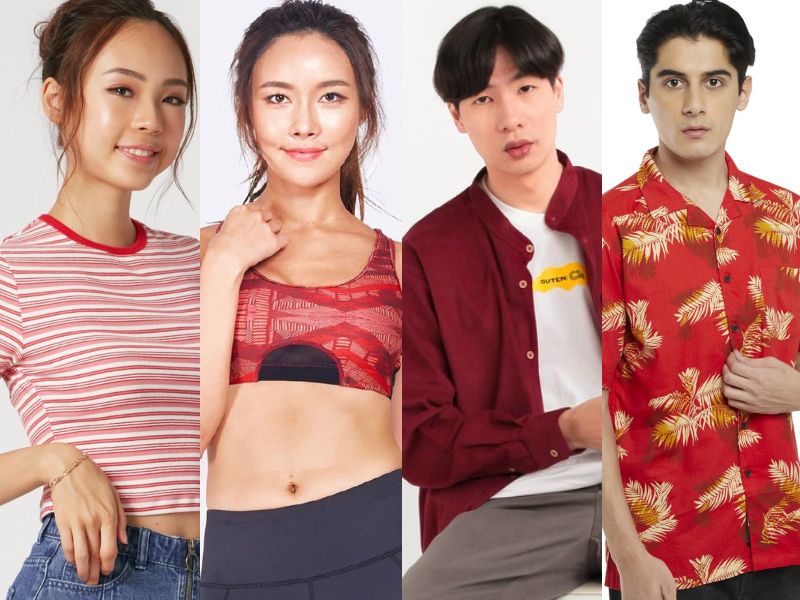 Singapore National Day is just around the corner! While you might be watching the celebration from home this year, you can still express your pride by wearing red and white outfits. Don't be mistaken though, we're not referring to tacky outfits that scream "I Love SG". Keep scrolling to find out how you can wear red and white outfits in a stylish and subtly patriotic manner. We will be taking you on a ride around our sunny island as we capture fashion inspiration from all things Singapore!
Red and white outfits for this Singapore National Day
1. Haji Lane Hipsters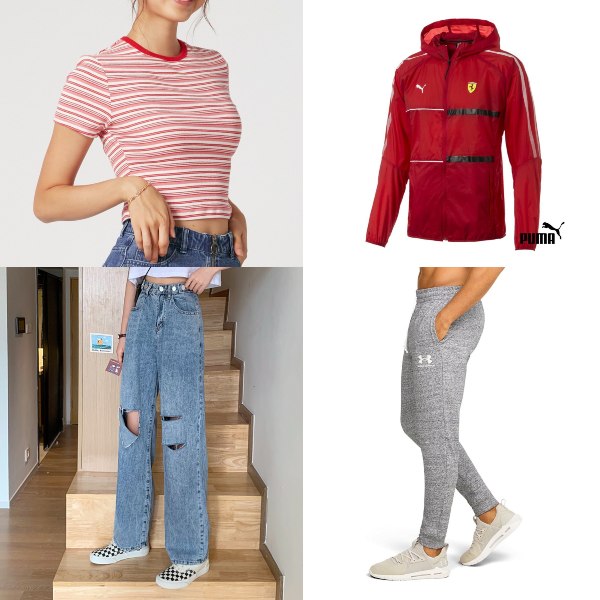 Lined with colourful mural walls that make an awesome backdrop for your #OOTD photos, Haji Lane cafes and bars are one of the hippest places to be seen at. Capture the area's essence through bold and funky clothing designs this Singapore National Day! 
Girls, it's time for parties and celebrations. Whip out a stylish SIXTY8IGHT Brielle  Rib-knit Crop Top (available on 6ixty8ight.sg Official Store) and High Waist Ripped Jeans (available on XiaoZhaiNv Women's clothing)! Guys, nothing screams 'swag' more than a PUMA Ferrari T7 City Runner Hooded Men's Jacket (available on PUMA Singapore Official Store). Match it with a pair of Under Armour UA Men's Sportstyle Terry Joggers (available on Under Armour Official Store) from your favourite streetwear brands and get ready to charm the socks off your Instagram fans!
2.
Kiasi
Singaporeans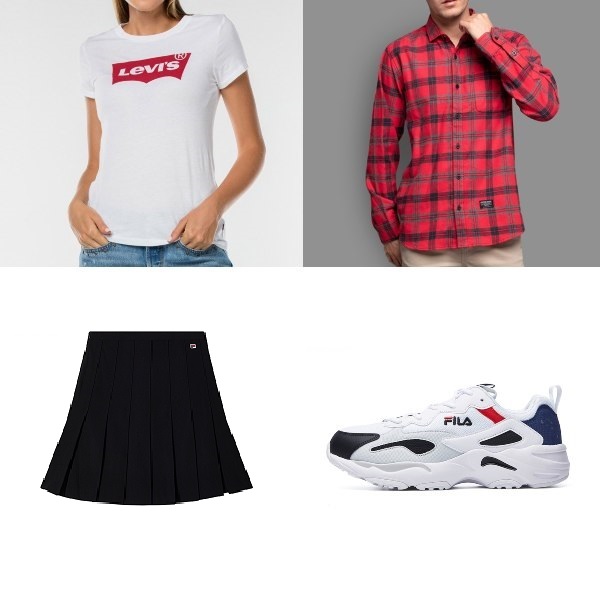 As one of the 5 'K's (kiasi, kiasu, kiabo, kiabor, kiachenghu) used to describe the classic Singaporean, kiasi-ism refers to our risk-averse character. Playing it safe this Singapore's National Day? You can't go wrong with a simple red and white outfit. However, don't mistake simplicity for tacky when it comes to your National Day clothes. 
Ladies, a plain and comfy Levi's Womens Slim Crew Logo Tee (available on Levi's Official Store) paired with a FILA Women's F-box Logo Pleated Skirts (available on FILA Official Store) can turn a simple outfit into something incredibly fashionable! Guys can opt for a Long Red Black Flannel Shirt (available on Cotton Goods ID Official Shop) with dark jeans and a pair of white FILA Men's TRACER Chunky Sneakers (available on FILA Official Shop). The kicks feature a hint of red which keeps to the red and white outfit theme!
3. CBD Parents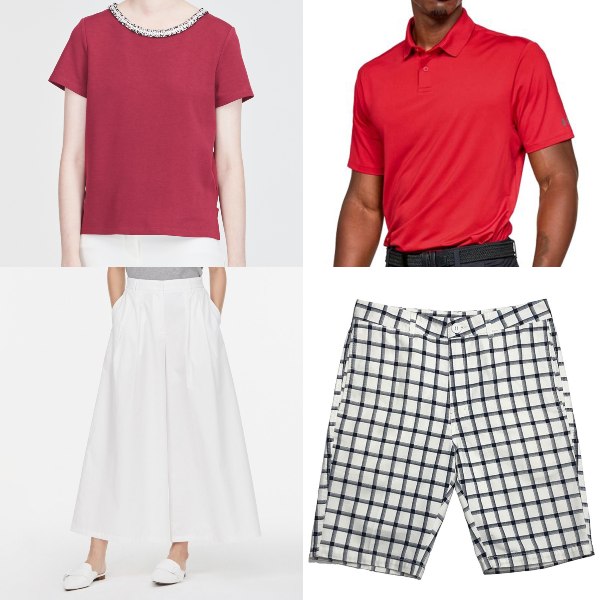 We understand working parents don't get to spend as much time with their kids. Well, Singapore's National Day is a great opportunity for some family time with these fun things to do with your kids! Go for comfortable and fuss-free National Day clothes so you can keep up with your little ones. 
Mums can wear a LALU Tweed Trimmed Tee with LALU Flared Pleated Trousers (both available on iorasg) for a more put-together appearance! These also make great office wear for working mums and can be reworn for many occasions. Along with that, dads can go for a Under Armour Crestable Performance Red Polo (available on Under Armour Official Store) paired with a pair of comfy Hush Puppies Men's Cargo Bermuda (available on HushPuppies USA Official Store). This outfit will surely be a breath of fresh air from the office formal shirts and pants look!
4. Laid-back Heartlanders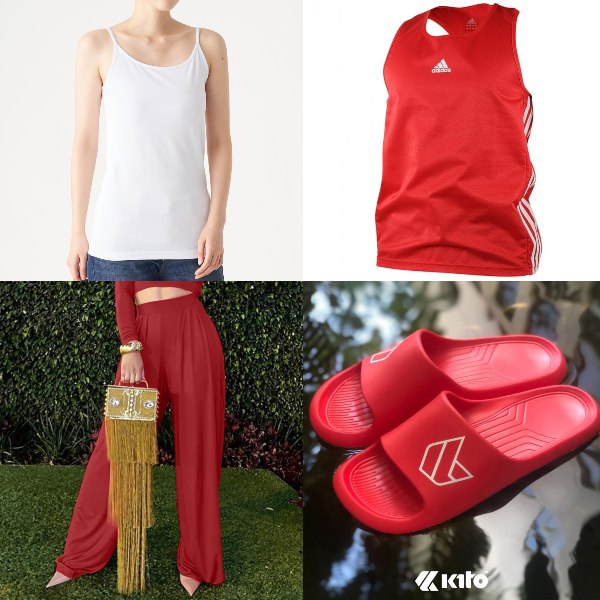 Want to sleep in on the public holiday? You can still stick to the patriotic theme in comfy loungewear with the following National Day clothes!
Ladies, pull on a pair of slouchy Red Elastic Waist Loose Pants (available on ZANZEA Official Store) paired with a super soft MUJI Cotton Jersey Stretch Camisole White (available on MUJI Official Store) and you're ready to while the day away in style! Gentlemen, wear a pair of Kito Rubber Red Flip Flops (available on Happyfit Footwear Official Store) coupled with an Adidas Red Singlet (available on Sporting House)! Being homebound doesn't need to be boring. Challenge your partner to play some of the best couple online games!
5. ActiveSG Ambassadors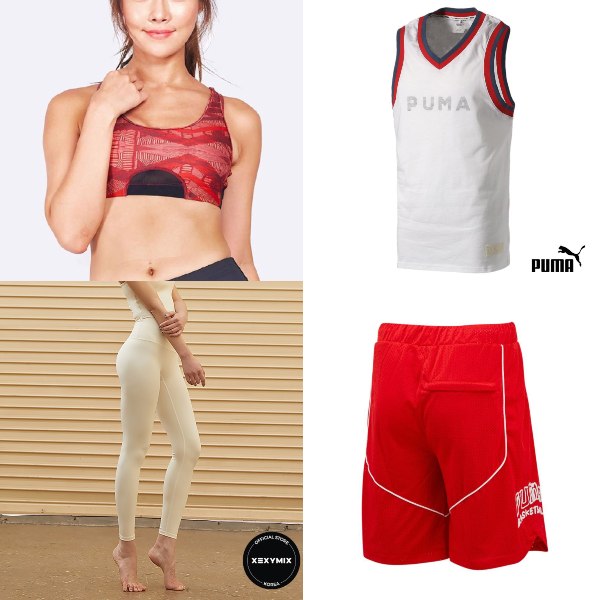 If you love staying fit on your day off, why not hit the gym in a red and white sportswear outfit to show your love (and good figure) this Singapore National Day? 
For sporty girls, go for a loose fitting women's activewear outfit, such as the FUNFIT Knockout Red Racerback Sports Bra (available on Funfit Outlet Official Store) and a pair of stretchy XEXYMIX High Flexy Relax V-Up Ivory Leggings (available on XEXYMIX Official Store) to flaunt your toned body. On the other hand, guys who are up to shoot some hoops can throw on a PUMA Fadeaway Men's Basketball Jersey Tank with a PUMA Hoops Game Men's Basketball Shorts Knitted (both available on PUMA Singapore Official Store) in striking red for that extra oomph! 
6. Cafe Hoppers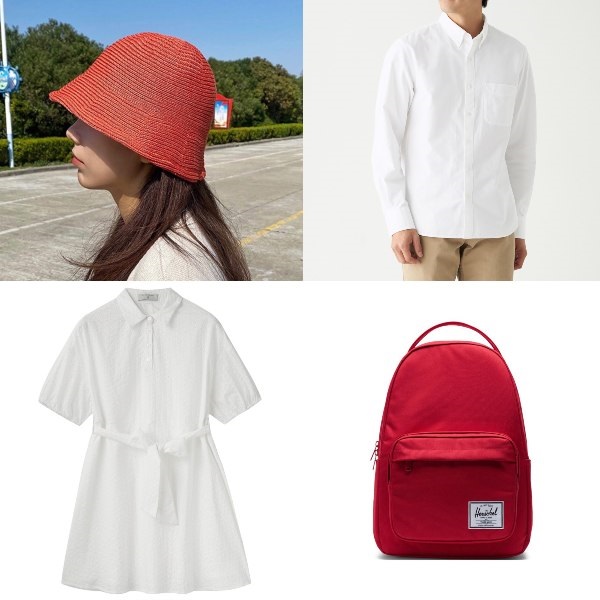 If you're celebrating this Singapore National Day cafe-hopping, be sure to join the spirit by sporting red and white outfits! Check out our list of cafes in Tiong Bahru and some of the best Singapore neighbourhoods for brunch plans!
For the ladies, a GIORDANO Hollow Puff Sleeves Dress (available on Giordano Official Store) would be perfect for a sweet date at a cafe! The trendy puff sleeves design adds a hint of flirty playfulness to your overall vibe. On top of that, you can pop on a Red Bucket Hat (available on Papaya Hats & Caps) for extra charm. For the guys, wear a MUJI Washed Oxford Button Down White Shirt (available on MUJI Official Store) with a Herschel Miller Backpack Red (available on Herschel Singapore Official Store) to store an extra jacket in case your date gets cold in the cafe — aww! 
7.
Paiseh
Patriotics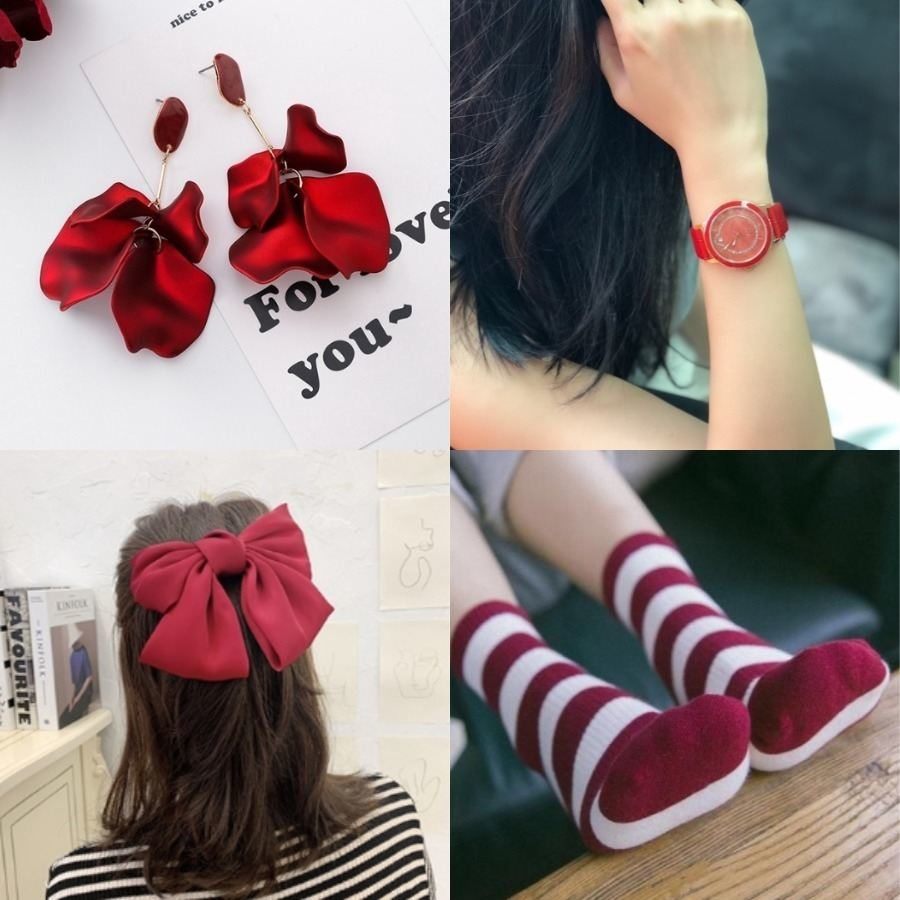 If you're too paiseh (shy) to display your patriotism through your outfit, why not slip on some red and white accessories? Red and white striped socks (available on the92shop), Zeca red fashion watches (available on Zeca Watches Official Store), red rose petal earrings (available on Time Jewellery Store) as well as red ribbon hairbands (available on luckyday.sg) are great and subtle details to add to your National Day outfit. Show your love for the nation this Singapore National Day!
8.
Tamchiak
Foodie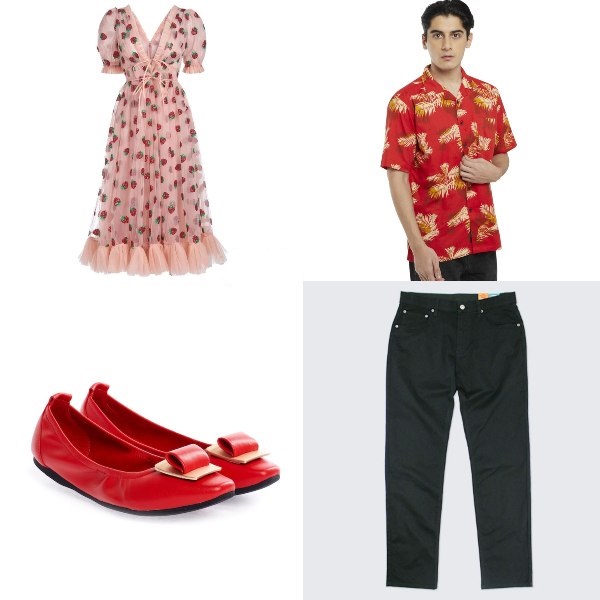 It's no secret Singaporeans love food. If you identify yourself as a tamchiak (gluttonous) Singaporean, you'll love a food baby-friendly outfit!
Ladies can don a sweet Strawberry V-Neck Summer Dress (available on upto1-dress) decked with mini berries to keep to the red and white outfit theme. The cinched waist will emphasise your figure while the flared out cut helps to hide any food bellies! Don't forget to throw on your comfiest pair of PAZZION Red Ornament Flats (available on PAZZION Official Store) if you're planning to stand in line like a good Singaporean for a National Day feast! Meanwhile, guys can go for this flashy Salt N Pepper Red Tropical Shirt (available on saltnpepperofficialshop.sg) matched with a pair of laidback BOSSINI Stretch Denim Slim Jeans (available on bossini Official Store) that'll go well with any piece in your wardrobe. 
9. Vintage Vanguard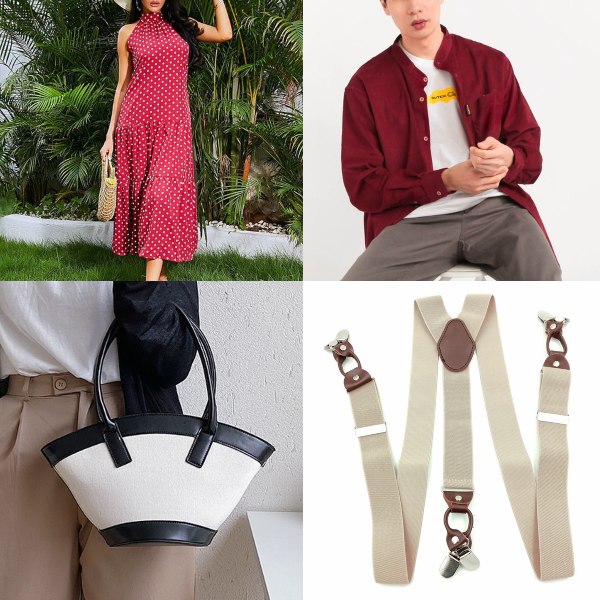 All about vintage fashion? This Singapore National Day gives you the perfect excuse to whip out your red and white retro get-up! Ladies can put on an old-school retro Lovito Boho Dot Halter Flared Red A-Line Dress (available on LOVITO OFFICIAL STORE), accessorised with a IELGY White Stitching Bucket Bag (available on IELGY Official Store).
Gentlemen can also pull off a vintage set of National Day clothes with a Dafa Corduroy Red Relaxed Fit Shirt (available on guteninc.sg) worn over a plain white oversized shirt. Take the style up a notch with white suspenders (available on crystal668.sg) and you'd look like Jack from our all-time favourite movie, Titanic!
10. Modern Merdeka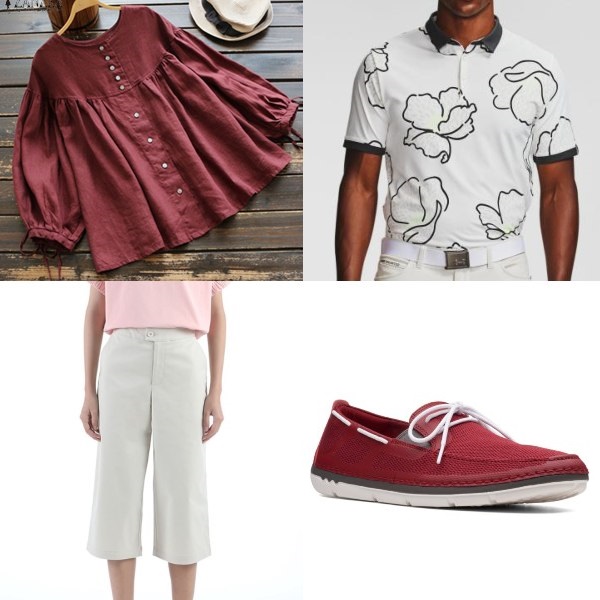 In your 60s? You're never too old to dress up for Singapore National Day! Upgrade your wardrobe with some of these modern and stylish red and white outfits.
For a chic yet age-appropriate attire, ladies can wear a ZANZEA Peplum Button Down Blouse (available on ZANZEA Official Store) and a pair of Sand Cotton Culottes (available on TRT Concept). Meanwhile, men can opt for something more casual, like the Under Armour Range Unlimited Monarch Polo (available on Under Armour Official Store). Get in line with the latest fashion by slipping into a pair of CLARKS Step Maro Wave Dark Red (available on Clarks Singapore Official Store) for a luxurious vibe!
11.
Atas
Asians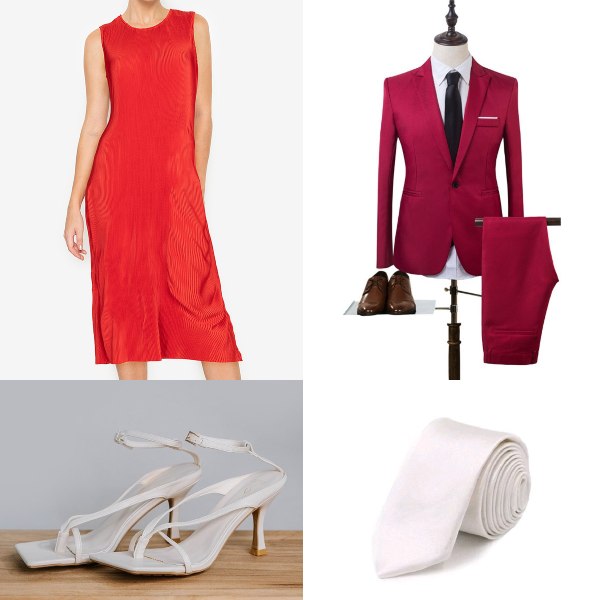 Seize the public holiday and take your date out to one of the most atas (sophisticated) high tea spots for an unforgettable afternoon. Whip out your favourite gown or suit, it's time to dress to the nines in red and white!
The ladies can accessorise this classy Zalora Work-Pleated Midi Dress (available on Zalora Singapore Official Store) with some fine jewellery. This is also the perfect occasion to slip into these pretty Annika Strappy Heels in Cream (available on Sunday Staples Outlet Store). As for the men, go bold or go home with this eye-catching Tuxedo Formal Blazer Pants 2Pcs Set (available on Coobuy Flagship Store) and White Neck Tie (available on houseofcufftoko.sg). With this ensemble, you're guaranteed to turn a few heads!
Show off your Singapore National Day pride in stylish red and white outfits!
Aside from your National Day clothes, there are many other ways that you can show your love for Singapore. Amp yourself up for National Day with some popular Singapore snacks or show off your national pride by recreating some of these famous local drinks like Bandung and Kopi Gu You! Meanwhile, don't forget to check out great deals during our National Day Sale!